We will be watching films with seven primary objectives in mind:
1. To use our powers of
observation
to understand how films make meaning.
2. To learn some basic film
terminology
and to use it in conversation and writing.
3. To participate in an environment/community in which peers have a common, objective vocabulary for
critical thinking, writing, and discussion
of film/story.
4. To acquire a beginning understanding of how
narrative structure, character development, and causal logic
are used to create a story.
5. To write a series of short critical pieces leading to an in-depth
film essay
.
6. To make a
connection
between what we are learning and how we can use that learning in more than one formie: discussion, journaling, written critical review, written short essay, written (in-depth) essay, as a means of developing a process for our own creative writing, as a means of peer editing and constructive criticism, and as a means of developing a method for organizing thoughts and words into essays that meet the AP and SAT standards.
7. To enjoy ourselves, together.
Powered by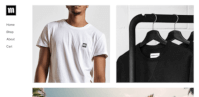 Create your own unique website with customizable templates.